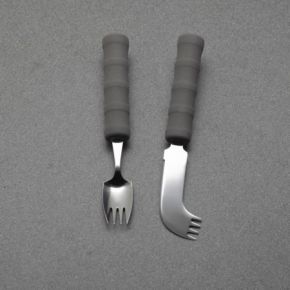 One-Handed Cutlery
Designed for those with a weak or painful grip, this range of cutlery comprises of stainless steel utensils that have been mounted into lightweight foam handles - that can be used for one handed eating by combining cutlery functions.
Example: the splayed fork is a pronged fork but with edges designed for cutting food, and with a deep rounded body that works like a spoon. The Nelson Knife is a knife with a cutting edge, which ends as a curved pronged fork, that enables food to be picked up. Comfortable to hold and washable (although not recommended for dishwashers).
by Rebecca H

Review:
My mum hasn't used these yet but both of us felt they would be really helpful - what a good idea.
Rating:
---
by Barbara R

Review:
Thank you for your help when the wrong item was delivered, easily rectified by you. The cutlery has made life easier for my mother who has recently had a stroke.
Rating:
---
by P3 C

Review:
The young man using these items can now feed himself without the embarrassment of spills or having to be fed.
Rating: