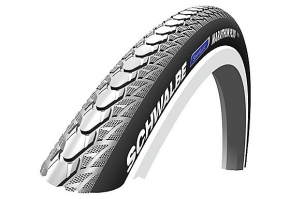 Schwalbe Marathon Plus Puncture Resistant Wheelchair Tyre-Grey
With this puncture resisting wheelchair tyre punctures can be a thing of the past. Flat-less wheelchair tyre combines the comfort and easy running of a pneumatic tyre with the puncture free convenience of a puncture proof tyre.
Fitted with a Kevlar insert the tyre will stop a sharp object up to 5mm long from puncturing the inner tube.This unique Black'n'Roll compound leaves no unsightly black marks on indoor floors.Also has a completely smooth hand-friendly 2Grip side wall.
Pressure:
Colour: