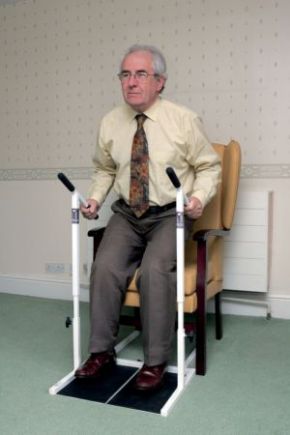 Chair Riser Stand Easy
The stand easy is ideal for anyone who needs that extra help getting from a seated to a standing position. This sturdy standing frame offers a secure solution to those who require assistance when getting in or out of a chair, wheelchair, bed or even car.
The Stand Easy aids self assisted raising and lowering, reducing the need for carer involvement. The frame features a dual handle option which allows users to adopt either a push or a pull motion when raising or lowering and allows freedom to walk forward without obstruction. Features adjustable handle height and base width for added versatility.Also dismantles for storage.
Specifications
Internal width: 500mm to 700mm (19½" to 27½")
External width: 530mm to 730mm (21 to 28¾")
Length of base: 840mm (33")
Lower handles: 620mm to 800mm (24½" to 31½")
Upper handles: 820mm to 1000mm (32 to 39")
Max user weight: 254kg (40st)
Weight: 11kg.