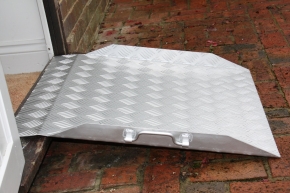 Threshold Standard Ramp
This threshold ramp rests securely on the threshold, giving a secure, stable route into the home or business. It creates an 'up and over' access route through both hinged and sliding PVC type doorways, with a strong edge nosing that can be used with a second ramp.
Its weight makes it easy to deploy, and its (foldaway) carry handle makes it very portable. No need to worry about damage to the doorway - the underside of the ramp has a rubber anti-slip surface that secures on the threshold but protects the doorframe.
Width 700mm (28")
Max capacity 250kg (39st)
TRP-ST5 Length 500mm (20") Weight 3.5kg (7¾lb) Maximum recommended height 100mm (4")
TRP-ST7 Length 760mm (30") Weight 5.5kg (12lb) Maximum recommended height 120mm (5")