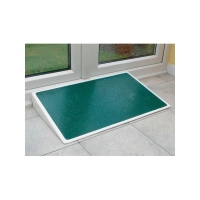 Simple Threshold Ramp for Wheelchairs and Scooters
Available in two, three, four, five and six inch raises, these simple threshold ramps provide easy access (for wheelchair or scooter users) up a low step or one side of a raised threshold.
Made from fibreglass, they are sturdy, simple and reliable. Weighing just 4kg but able to support a maximum weight of up to 40 stone, these ramps are both easy to use, and move where needed.
Users will be reassured by their non-slip surface covering. These ramps are suitable for situation when there are different levels on either side of the threshold.
by Simon M

Review:
excellent product, good price, helpful friendly staff. Delivery could have been a bit more interactive i.e. wasn't able to track/plan delivery to safe place etc - luckily was in - all in all - very satisfied
Rating: