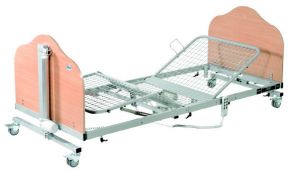 Casa Med SE Low Profiling Bed
A Casa Med SE Low Profiling adjustable bed is a simple, highly effective option for those who need a reasonably priced electric bed with a low position for maximum safety. With four different mattress supports that can be positioned to offer the greatest comfort or to help with circulation problems or pressure sore prevention. It has wide range of positions and very easy adjustment.
Casa electric beds are a tried-and-tested option. This manufacturer knows exactly how to make an electric bed comfortable, functional, and usable for an elderly and disabled person and their carers, without sacrificing the look of an attractive wooden bed.
Benefits:
Can significantly reduce the risk of pressure sores.
Assists fluid drainage and poor venous return.
Easily to use handset controls, providing independent, flexible positioning.
Safer, improved mobility and transfer for easier access to wheelchairs and commodes.
Safer and easier lifting and lowering.
Features:
Beech effect head and foot boards to blend in with your home.
Twin axle four brake low gravity castors to make the bed very easy to manoeuvre.
Removable mattress retainers at head and foot sections to keep mattress in place.
Metal mesh platform.
Specifications:
Maximum user weight 140kg (22st)
Lowest position from floor 23cm (9")
Highest position from floor 63cm (24¾")
Two year warranty