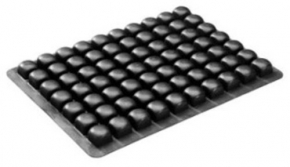 The ROHO Adaptor pad is a self-contained Air Spring® Adaptor Pad that can be used as an interface on virtually any flat or contoured surface to protect soft tissues. Adaptor pad can be cut to fit various surface shapes such as sides of wheelchairs, trays, head and foot rests, inside of helmets, transfer boards, arm rests, backrest or for any surfaces that may need protection.
Features
Absorbs shock
Protects against shear and friction
Easily cleaned and disinfected
Durable
Closed air cells, so product maintains efficacy even if a single cell is cut or punctured
Made of flame-resistant, black neoprene (not made with natural rubber latex)
Specifications
Height 2cm / 1 inch
Width 25cm / 9 ¾ inch
Length 34cm / 13 ½ inch
Weight limit None if properly sized
Weight 0.2kg / 8oz
Warranty 24 months
by Robert

Review:
I bought this to cut to use on my transfer board, it is perfect for my needs and easy to cut to size.
Rating: