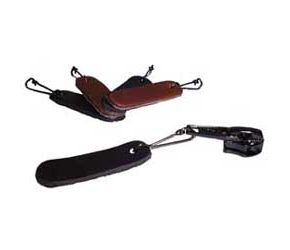 Zip Pullers
These leather tab zip pullers will make life so much easier, they simply clip onto your zip to make fastening easier.
Available in packs of five, 3 black and 2 brown.
by Bryan M

Review:
very good service--fast and efficent
Rating:
---
by Averil L

Review:
My husband has neuropathy and Parkinson's, and had difficulty getting hold of small items. I have had trousers altered to replace buttons with velcro, and fit these to the zip pull. It works well.
Rating:
---
by Mr P

Review:
Very simple tags that are great on coats and hoodies but not been able to use on trouser zips as they dangle!
Rating: