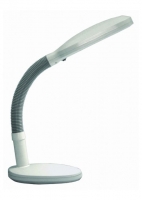 Table Lamp for the Visually Impaired
This daylight vision table lamp is ideal for people with a visual impairment. It works by introducing near daylight into your room, no matter what the natural light outside. With a flood light effect tube covering maximum area directed via use of a flexible arm, this table lamp for the visually impaired helps relieve eyestrain and headaches.
Its bulbs are energy efficient and can last up to 8000 hours. And this lamp isn't just for reading - it's also good for hobbies, close up work, studying - in fact helpful for anyone with limited vision!
Specification