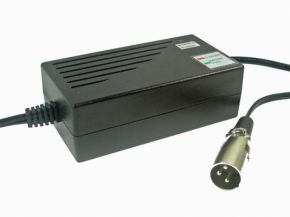 This automatic charger is easy to use and hassle free. Simply plug the charger into your scooter or wheelchair using the 3 pin connector and switch it on.

The Charger will check the state of the battery and employ the correct charging regime accordingly.

This charger is specially designed to bulk charge as well as float charge, making it one of the leading chargers in today's mobility market.

Once the battery has been charged it will be maintained by the charger, making sure it's in peak condition when you need it to be.

Using this type of charger will prolong the life of your battery, saving you time and money in the future.
2 Amp Suitable for 10Ah - 22Ah batteries
6 Amp Suitable for 30Ah - 50Ah batteries
8 Amp Suitable for 55Ah - 75Ah batteries
12 Amp Suitable for 80Ah and above batteries
by Shirley A

Review:
Sent to a disabled friend. Arrived quickly and looks good. Yet to be tested but should be fine. Price very competitive, much better than a mobility shop
Rating:
---
by Jo C

Review:
I ordered this as a replacement for a faulty charger on my Dad's scooter. Excellent delivery and updates on my order. I would highly recommend both this product and Active Mobility Centre.
Rating:
---
by Brian M

Review:
My battery charger was different to the one shown but a quick call to Active Mobility Centre and they confirmed that the charger shown would be ok for my mobility scooter. I ordered their charger and it was posted same day, it arrived three days later by Royal Mail. Charger works perfectly. Great service from Active Mobility
Rating:
---
by Christine B

Review:
This charger is brilliant, would highly recomend it.
Rating:
---
by Stephen D

Review:
Was pleased about batts thank you
Rating:
---
by Colin D

Review:
It was exactly what we needed, reasonable cost, very quick despatch, I have no problem recommending this vendor.
Rating: