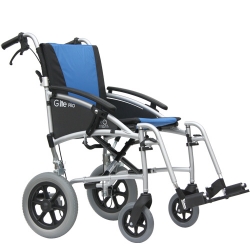 The G-Lite PRO Transit Wheelchair weighs around 12 kilos (26lb) and easily folds to pack into the boot of most cars
The new PRO version of the G-Lite wheelchair is designed for casual users needing a lightweight transit wheelchair with the added benefit of handy brakes for extra attendant control
The G-Lite PRO also has adjustable armrests and comfortable upholstery
The G-Lite PRO Transit features
3 seat widths - 40cm, 45cm and now 50cm (16/18/20 ins)
adjustable armrests
profiled footrests
handy attendant brakes
easy clean comfort upholstery with rear stash pocket
maximum user weight 100kg (15.5 stones) - 135kgs (21 stone) on the 50cm (20") seat width
12.5" transit rear wheels
by Jamilla

Review:
Lovely wheelchair nice and light to put in the car, and looks good too.
Rating:
---
by Yvonne J

Review:
Very lightweight stylish chair, a few good features which has made my Mum happy , drop down armrests which are great so when we go for a meal my Mum can get right up to the table, a built in seatbelt , and attendant brakes which saves me bending down all the time. Folds easily and compact to fit in the car.
Rating:
---
by Nuria F

Review:
So glad I got this wheelchair for my mum. She suffers from severe spinal stenosis and can hardly walk now and this wheelchair has been a blessing. It is light and easy to manouevre, folds up easily and fits in our car boot perfectly but maybe a bit too big to fit in small cars like my father's Ford KA for example so he puts it in the back seat instead with no problem. I bought the largest of the three sizes available for mum's comfort and she is very happy with it
Rating:
---
by Anne G

Review:
Amazingly light chair that was available in an extra wide version which suited my father perfectly. Good strong brakes and very easy to manoeuvre.
Rating: