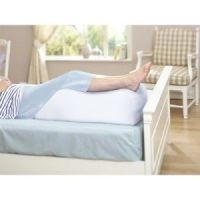 Bed Leg Rest
Put your feet up and relax on our new soft bed leg rest support. When lying down in bed this extremely comfortable position is ideal for resting tired legs and feet. The leg rest is contoured to follow the shape of your legs, giving maximum support. It provides relief from varicose veins, swollen ankles phlebitis and oedema. Removable soft poly/cotton washable cover in white.
Length: 660mm (26")
Width: 505mm (20")
Height: 20mm (8")
by Hazel M

Review:
Excellent service and a very good product
Rating:
---
by Miss B

Review:
Great Bed Leg Rest. My legs do not feel as tired or ache any more. I find the leg rest comfortable. The service from active mobility has been great. I would recommend them to others.
Rating:
---
by Dawn W

Review:
I have CFS/ME and have found the leg rest excellent. It supports my legs much more effectively than the 5 pillows I had been using, and doesn't move around in the night. The support it provides helps with the pain in my muscles and joints in my legs. Active Mobility supply the leg rest at a reasonable price and with reasonable p&p. The leg rest was delivered quickly.
Rating:
---
by Lisa L

Review:
I have one of the Leg Rest, I sleep with it every night. It has dramatically improved the circulation in my legs and especially my feet, which needed the most help! It is definitely worth the investment!
Rating: