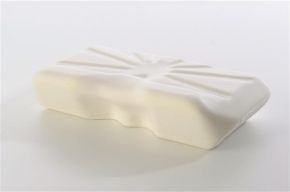 Putnam Pillow
Relax with the Putnam Pillow - no more sleepless nights and an end to stiff neck in the morning. The pillow cradles your head, supports your neck and correctly aligns your spine whether you sleep on your back or side.
Covered in 100% soft cotton jersey, the pillow fits into a standard pillow case and is hand washable. They are very easy to roll up making them extremely useful for travel.
The Royal (if you sleep on one pillow): 520mm x 310mm x 130mm (20½" x 12" x 5")
The King (if you sleep on two pillows): 580mm x 335mm x 150mm (23" x 13" x 6")
by Claire W

Review:
Great product - Active mobility centre very efficient. Thanks
Rating:
---
by Clare S

Review:
This pillow is REALLY (and surprisingly) comfortable, got an excellent nights sleep for the first few nights, and am sure that would carry on, but the rubber/memory foam has quite a strong aroma so i have washed the cover and am airing it in the hope that the smell will diminish a little.
Rating: