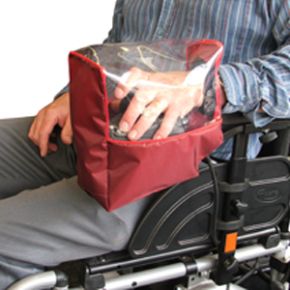 Electric Wheelchair Control Panel Cover
The electric wheelchair Control Panel cover, has been designed for use with either right or left hand controls. It is easily affixed to the chair thanks to the zipped bottom. The soft cuff and clear view panel ensures that all your controls can be accurately and comfortably accessed.
Colours:
by Chris J

Review:
It is just what I needed for this weather and at a good price, thank you
Rating:
---
by Christina A

Review:
Also this is grand
Rating:
---
by Sandra W

Review:
This was for my husband as he is in an electric wheelchair. I was elated that you had the product as he goes to watch our Grandson play baseball and gets caught in the rain sometimes. I thought this would be perfect for him to protect his controls. The pocket to slip his hand through in not quite large enough, we will have to cut it to make it bigger. My hand fits thru fine. Thank you !!!!
Rating: