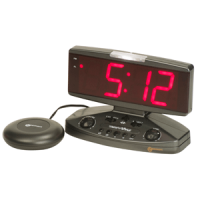 Wake 'N' Shake Alarm Clock
The Geemarc Wake n Shake is a compact and stylish large display digital alarm clock which can wake you with an extra loud alarm, strobe light or a vibrating pad or a combination of the three. So if you want to just have the shaker and alarm, you can. The Wake n Shake can also alert you to the telephone.
By connecting the Wake n Shake to your telephone line, your Wake n Shake can wake you up when your phone rings! The extra loud alarm rings up to 95dB, along with the powerful shaker pad and bright visual ring indicator which should ensure you always wake up in time! The clock has an extra large digital display so you can see the time displayed clearly.
Features
Supplied with a shaker pad.
Extra loud alarm and ringer (85 dB).
Continuous 9 minute snooze.
4 alarm option : Ringer + vibrator, Ringer + Flash, Vibrator, Vibrator + flash.
Volume and tone control.
Dimmer switch (HI/Low).
LED visual ringer indicator.
Clock setting 24h (International version ) and 12h (UK version).
Telephone Ring Amplifier feature: plug the Wake n Shake into your telephone line and it will wake you up when the telephone rings!
Supplied with a splitter to connect both alarm clock and telephone into the same telephone socket.
Supplied with an adaptor plug (included).
Place for backup battery (9V PP3) in case of power failure (not included).
Size: 20cm x 12cm x 5cm (8" x 5" x 2")