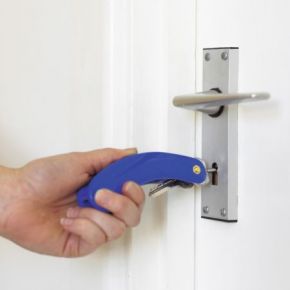 Easy Grip 2 Key Turner
This Easy Grip two key turner has been designed to help those with a weak grip, or that suffer from Arthritis or tender joints. It holds two keys safely and securely, and makes it easier to hold and control them.
The moulded nylon double key turner has a curved, built up handle that provides secure control of the keys (which are held by a brass screw fitting), and the extra leverage offered makes it easy to turn the keys in locks. Suitable for Yale or mortice type door keys.
by Hilary M

Review:
What an invention. I can now turn the key in my front door and get in! Thank ypou
Rating:
---
by Sandra P

Review:
I am sure I will find this Key turner very helpful as I have difficulty with turning small keys
Rating: