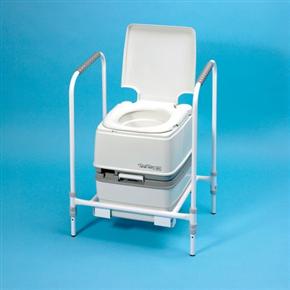 Chemical Toilet Port-Potty Portable Manual Flush
This chemical toilet can be supplied with a stand, which adds stability. The stand also makes the toilet height-adjustable and adds supporting hand rails that make it easier to sit and stand. It makes this portable toilet an excellent option for the disabled, the elderly, those with balance difficulties, or less mobile users.
The toilet itself has two sections, one for waste and the other containing the flushing mechanism and seat. The tank can be sealed for easy transport and unlike some portable toilets, it is suitable for users up to 28 stone or 182kg.
The performance of a chemical toilet also depends on the chemicals used. We can supply this with Aqua Kem to keep odours to a minimum, or Aqua Rinse for easier cleaning.
Specifications of the toilet:
Height: 414mm (16¼")
Width: 379mm (15")
Depth: 419mm (16½")
Tank capacity: 21 litres (4.6 gallons)
Max user weight: 120.65 kg (19stone)
Weight 4.1kg (9lb)
Specifications of Frame:
Height of tray from floor that holds toilet: 55mm - 155mm (2" - 6")
Height of Side Rails: 725mm (28½")
Width 406mm (16")
Depth 520mm (20 ½")
Weight 5.7kg (12lb)
Features:
For additional support it may be used with the stand AA2430
Height adjustable and can be dismantled and packed for storage or transport.
The frame has non slip feet and the hand rails have contoured sleeves for better grip
Aqua Kem Toilet Chemical
A strong germicidal chemical used in the tanks of portable toilets for hygiene and odour control. 2 Litres
Aqua Rinse
Important freshwater additive ensures a smoother and better flush. It leaves a micro thin protective film in the toilet bowl and prevents hard water stains 1.5 Litre
by Edna S

Review:
A really great job stops me having to climb the stairs ever time I need the toilet
Rating:
---
by Merril D

Review:
Very pleased with this product and easy to order
Rating:
---
by Janet C

Review:
Excellant service from customer services. Product proved to be Excellant as well
Rating:
---
by Colin P

Review:
Very good,delivery following day,and all in good condition.
Many thanks,will use you again.
Rating:
---
by Donna P

Review:
This chemical toilet is fantastic!! I bought it for my elderly mum who lives me and my family. We didn't want a conventional commode in the back room of our house with the 'odors' that can go with such equipment! Nor did I really want to be emptying it every time it was used throughout the day. So we thought this item might be a better option and it is working out really well. The toilet when used with the stand is a great height (which is adjustable), its very strong and safe and the chemicals really do prevent any unpleasant odors!! The toilet actually smells really fresh and clean and the flush freshens and cleans the bowl very well - much to my surprise to be honest!!
Its an excellent solution for anyone needing more accessible toilet facilities without the upheaval and cost of major plumbing work!!
Rating: