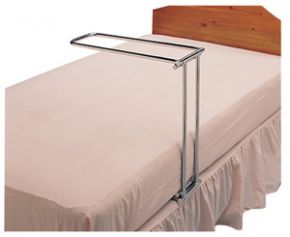 Bed Blanket Raiser Folding
This folding blanket raiser is manufactured from chromium plated tubular steel construction which fold completely flat when not in use.
Height: 560mm (22")
Length: 460mm (18")
Width: 270mm (10½")
by Angie G

Review:
the bed cradle is excellent, i can now get a better night sleep with out the quilt agrovating my legs.
it folds down for easy storage and just slides under your matress it couldnt be simpler i would recommend this product for anyone who find the quilt causes pain during the night.
Rating: