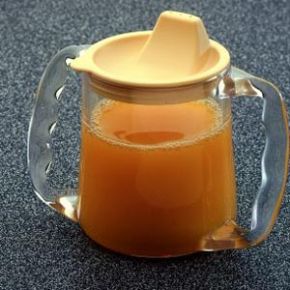 Cup-Caring
With a wide, stable base and two large contoured and angled handles, this caring cup is particularly useful for those with a tremor, or unable to sit upright. The cup has a secure fitting lid with a well designed spout, and has a capacity of 300 ml.
Its unique design enables it to be held in the correct position for drinking, and tough construction means that it's possible to use in a microwave oven to reheat liquids.
by Debra A

Review:
Very quick and efficient service, ordered online and they arrived the next day! Have used these cups before and they are very useful
Rating:
---
by Margaret G

Review:
Lovely cups nice and sturdy without being to heavy, thanks you and very quick delivery.
Rating:
---
by Mike W

Review:
Great cup, easy to use and perfect to drink from when I end up bed bound from my illness, as before I tried to use a normal cup without a lid or from a normal drinks bottle and I would always spill drink on the bedding but not know this cup as been ideal for my needs,
Rating:
---
by Lynnette C

Review:
Excellent delivery time really good product
Rating:
---
by Virginia C

Review:
very handy easy to hold non spill a boon for the elderly .
Rating:
---
by Timothy H

Review:
GOOD STRONG PRODUCT.IDEAL FOR THE JOB VERY PLEASE
Rating:
---
by Margaret C

Review:
Had previously had a cup which I purchased for my elderly Mother and I purchased 2 more as I was so happy with the function of the cup
Rating: