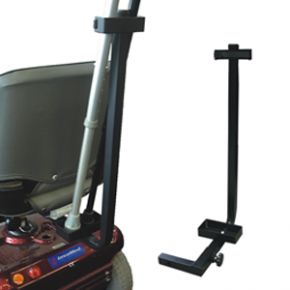 Scooter Walking Stick / Crutch Holder
This walking stick/crutch holder fits the universal bracket of most scooters. It has a self draining retainer for the ferrules and the top has a captive bracket with velcro fastening. Suitable for holding a pair of crutches or walking sticks.
by Anonymous

Review:
I bought and installed one of these only to find it was a poor fit. It is, in my view, adviseable to put a section of an old inner tube over the metal arms through which the velcro strap passes, since these will dig into your sticks over time if left uncovered. An otherwise highly useful item and at least half the price of a makers part.
Rating: