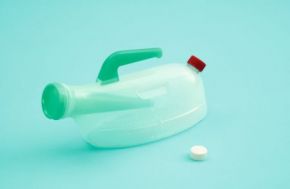 Spillproof Urinal (Male)
This spillproof urinal is designed to ensure no leakage no matter what position it is placed in, the contents will not escape. The anti-reflux design means that no cover is required, ensuring the urinal is always ready to use. It can even be left in the bed, making it instantly available to the user.
Emptied easily at the back using a choice of two caps supplied, standard twist cap, or a childproof cap preventing any unintended opening. The neck is angled, making it easy to use and the removable handle allows easy cleaning and emptying. Capacity 1 litre (2 Pints), which should not be exceeded. Graduated to allow easy measuring of contents. May be autoclaved up to 130°C.
by Patricia B

Review:
Very pleased with product. Nice size. No smell what so ever, which is a very big plus. Order delivered quickly and when promised . Very big thank. you . Patricia Devon
Rating:
---
by Ta S

Review:
as description. It is what it is.
Rating:
---
by Stephen B

Review:
excellent product
. Well worth every penny
Rating:
---
by Gerald B

Review:
Works fine
Rating:
---
by Neville J

Review:
thanks replacement bottle was quickly replaced, very good service
Rating:
---
by Helen I

Review:
Delivered promptly, to my in laws, was the right item that was needed.
Rating:
---
by Pat M

Review:
HAVENT USED IT YET...BUT IT LOOKS SUITABLE.
Rating:
---
by Anne J

Review:
Thank you the prompt delivery. The item is as described. Thank you
Rating:
---
by Leslie A

Review:
Very happy, fast delivery.
Rating: