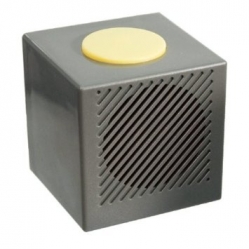 Talking Cube Clock
This talking cube clock speaks the time on request for people with a visual impairment.Simple to use Cube Clock announces time verbally in a natural, English male voice.
Easy to use function buttons and audible cues for setting and alarming the clock. Choice of alarms available, including a mechanical bell, horn or cuckoo. Also features an alarm reminder and volume control.
Specifications
Width: 70mm (2 ¾")
Depth: 70mm (2 ¾")
Height: 70mm (2 ¾")
Includes 4 x AA batteries
by Matthew

Review:
Excellent little talking clock that is so easy to use and set . Very happy with it.
Rating: