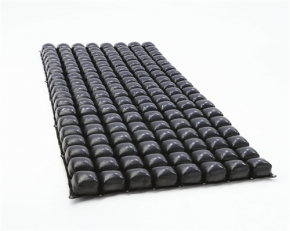 ROHO PRODIGY Mattress System - Inflatable Mattress Overlay Air Cushion is a three-piece section mattress system that snaps together to form one mattress 36&#39 x 81"3.5" but can be purchased in single piece sections.This mattress overlay system is non-powered and comes with a hand inflation pump for easy assembly.
Ideal for people with stage I or II ischemic ulcers and those at risk of skin breakdown.
The total system includes a hand inflation pump while individual sections that are sold separately come without a hand pump.
Accommodates other positional devices underneath the ROHO mattress.
Specifications
Individual section: 92cm x 69cm / 36 inch x 27 inch
Full mattress (3 sections) Length 207.5cm / 81 ¾ inch x Width 91.5cm / 36 inch
Height 9cm / 3 ½ inch
Weight per section :1.5kg / 3.2lb Full mattress 4.3kg / 9.6lb
Weight Limit: 136kg / 300 lbs
Warranty 12 months
by Steve R

Review:
Very pleased with this product , good quality and provides excellent pressure relief. Highly recommended !
Rating: